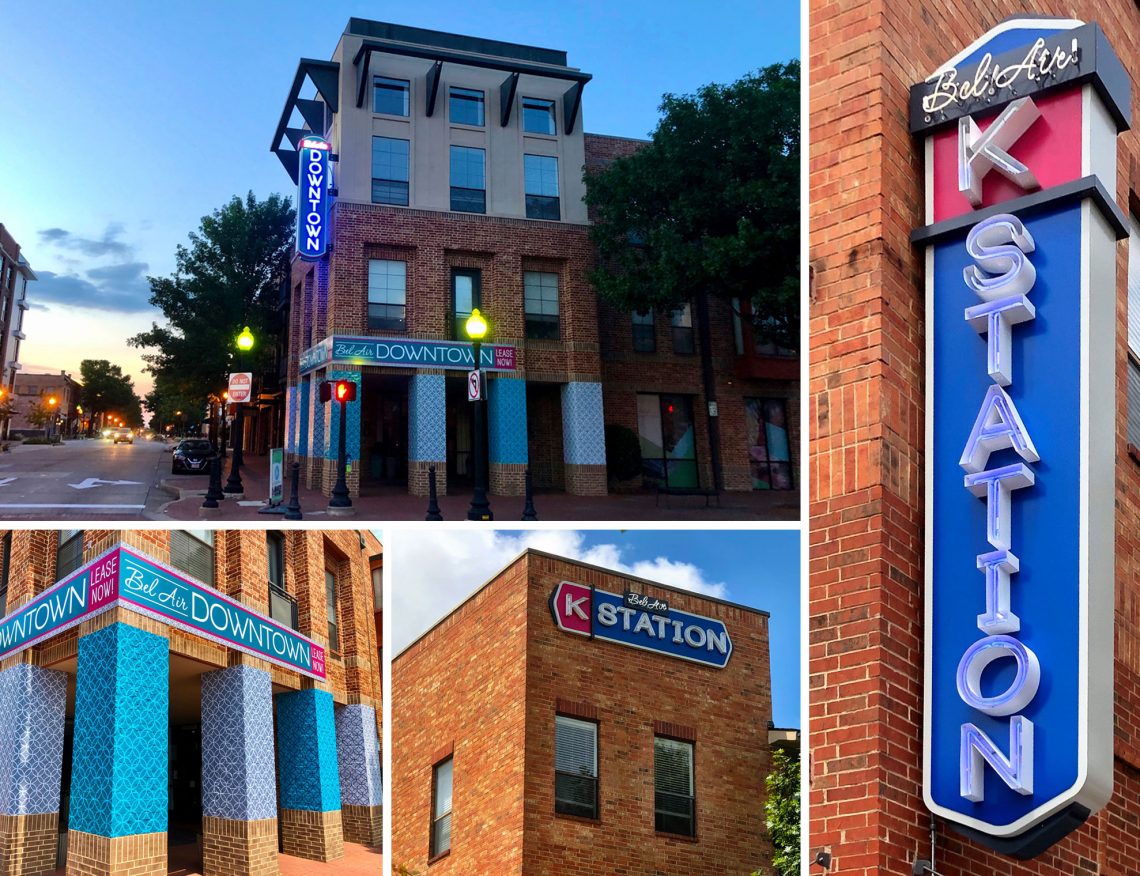 Retro Renovation for Two Urban Communities
Two 14-yr-old downtown communities needed a new brand and identity that competes with the surrounding new construction invasion. The client desired to connect with young urban dwellers looking for an eclectic living experience that embraced the area. However, dilapidated signs blended into buildings, and the properties weren't taking advantage of major traffic corridors and intersections. Both sites were riddled with issues including heavy City restrictions as they were located near a historic downtown.
Bel Air Downtown:
RC illuminated this prime corner with graphic column wraps. This exciting approach takes the colors and established brand and fuses graphics with a heat technique to the seven corner columns. The look is mural inspired art, "painted" directly to the brick. Colors demand attention, especially with the temporary identity and the leasing message. Then a bold retro-inspired neon blade was magnified and installed to capture traffic 24/7! The small parking directional was enlarged and mirrored the new blade, grabbing the attention of downtown's busiest street. Finally, branded permanent flags were added to the garage, allowing the property identity on all surrounding streets!
Bel Air K-Station:
This sister community needed its own brand and identity as it previously shared the leasing office with Bel Air Downtown. Located adjacent to the Metro Station, its new identity was paramount. However, traffic and visibility windows were limited due to one-way streets and a distant intersection. RC powerfully cements this community with a large neon blade directly above the corner leasing office. The identity colors are not only consistent with the community's new blue awnings but capture one-way traffic, and is large enough to be seen from a prime intersection a block away. Leasing letters are added to grab heavy pedestrian traffic and a large wall identity commands attention on the approach, almost a mile away.