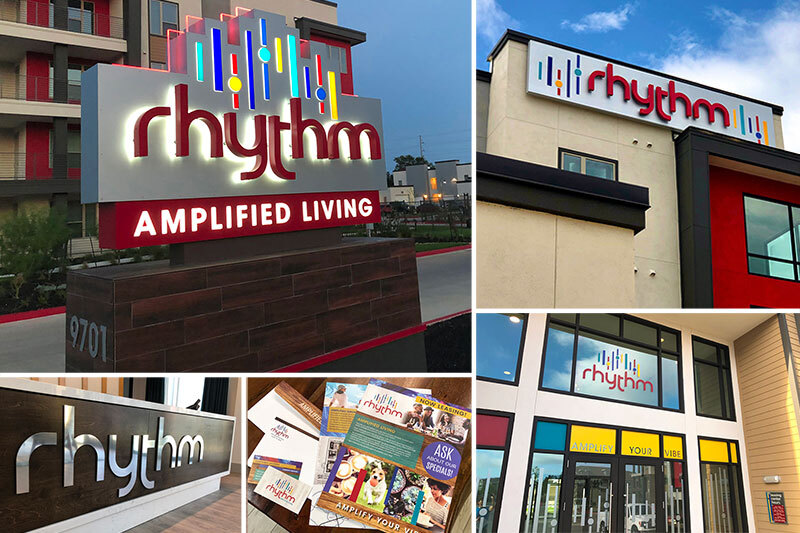 Amplify Your Vibe
Robinson Creative's exclusive branding method is on display here. The property experiences over 30 leases its first month, while still under construction and during a worldwide Pandemic!
With the inspiration of sound, color and movement, Rhythm infuses art and technology into an unforgettable living experience. Artistic flare, spontaneous movement and rich organic elements are combined with a new attitude. Prospects will expect an urban vibe with all the technology advances of an Austin influence. Rhythm is bold, creative and innovative. It's not just another place to live but an entirely unique life full of color, motion and sound. The slogan, "Amplify Your Vibe" speaks to the soul of the prospect. This is a place where you can be free to be the "you" that you are!
RC completes all naming, branding, logo and themes while brainstorming with the client and management team. Then after a strategic plan is established, the style guide is developed representing the the brand's voice and approach. Finally, RC engages implementation by fabricating and installing the striking identity and community signs. Planned print collateral and outside marketing is integrated until final property photography can be obtained.!
The monument consists of a double faced illuminated cabinet with reverse channel letters. Red edge-lit clear acrylic accent piece on top. Base features tile for a wood look. The vibration and sound bars inspire the logo and graphics. So this is echoed through every piece and component. The wall sign continues the look onto the building. Two-layer community signs feature applique vertical bars and circle on face.