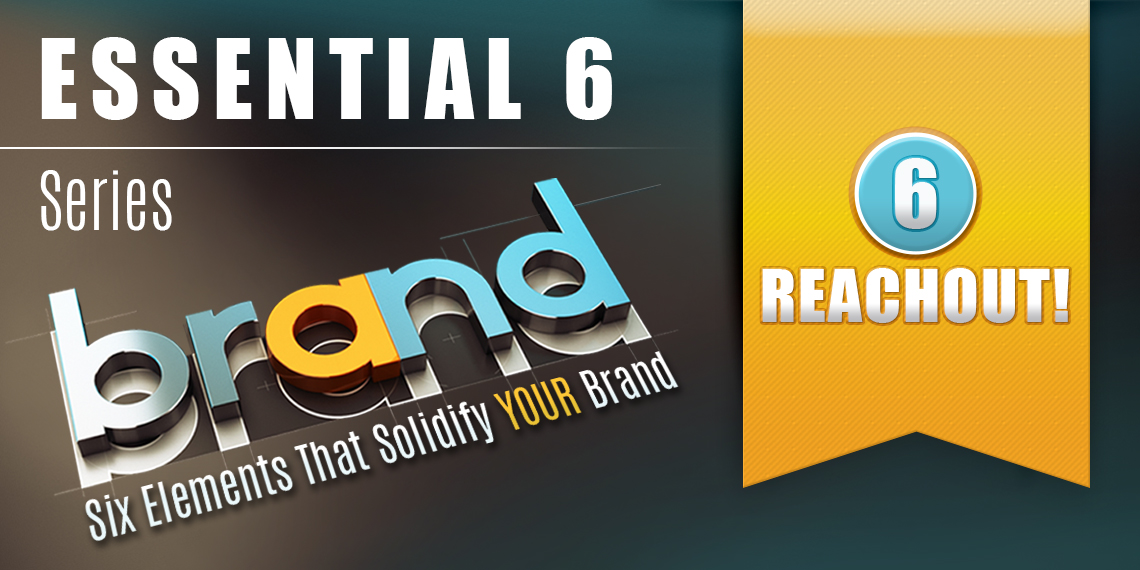 What are the secrets to creating YOUR brand?
In the final installment in this series, we complete this list of secrets for establishing your brand and the 6 essential components that build your image.
6. REACHOUT:
Strengthening your brand with advertising will include REACHOUT MARKETING.
Some of our most effective campaigns are those that include reaching out to area employers, businesses and competing communities. It is more than just printing a flyer… It's ESSENTIAL that it be strategic and organized. Again, it also should coordinate with your established brand.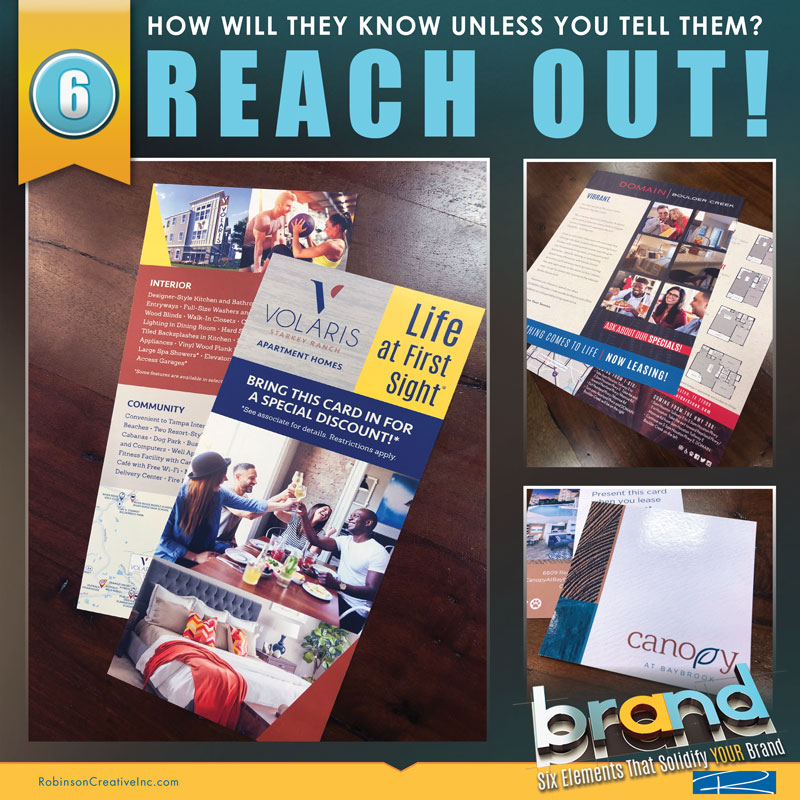 How Far Will You Go?
For years, the age-old process of printing has always been a proven method of "Getting The Word Out"! The newspaper may be considered almost a dinosaur in our tech-age, but some forms of printing are still viable. If your community is not in a high-traffic area or hidden, reaching out beyond your curb can prove beneficial. But how far will you go? Reaching out is a commitment; it takes planning and a strategy must be crafted. This may take a representative leaving the property, hiring a crew or some research into your local reach.
Here are some questions to ask yourself…
Who Do You Want To Reach?
Decide who your demographic is and what their likes and dislikes are. Who are they? This will give you an idea about how to reach them. What are their habits and where do they live?
What Are Your Human Resources?
Know you will need bodies to distribute your flyers, promo cards, postcards, make employer visits, etc… So rally the troupes!
Where Are The People?
Once you know whom it is you want to reach, find out where they are. Do they live at a competitor's community? Where do they shop and frequent?
Set Your Budget
Talk strategy. Pick a time of year that works. When do people consider moving? Hit them when they're ready. What type of reachout will be most effective in speaking to them?
Think about how you are going to do this. Then, strategize your plan of attack. Each type of reachout has its own unique benefits. The one thing you must remember is that each element has to be targeted for the best results. We see clients that assume they can do direct mail or flyers, but they do not know the first thing about distribution. They understand they need printed materials but do not know the most effective method in reaching the target market. So, we are going to break it down for you!
Types of Reachout:
Direct Mail
This is a fantastic way to reach potential residents living at other communities. Looking for people that fit your target resident profile? Find communities most like yours or communities where folks will want to "move up". Know you must have an incentive or gift highlighted on the postcard so they'll bring it in. The industry refers to this as a "call to action."
Entrepreneur.com, reinforces this when they say…
"…Your goal is to get action. You don't want a direct-mail piece to inform. That's what brochures are for. You want action!"
The incentive must be accompanied by verbiage such as "Must Bring In This Card for the Offer," as it helps you track them. Engage a firm like Robinson Creative to secure the mailing list, coordinate the mailing, and design an exciting oversized piece that grabs their attention. Direct mail still offers a much higher rate of return when compared to email, social media and paid Internet advertising.
"They may lack the dynamism of online social networks or the larger-than-life quality of roadside billboards, but postcards are a proven marketing tool for real estate pros. A big part of their appeal is that they can be produced and distributed fairly easily, at a relatively low cost…"
Flyers/One Sheets
These versatile 8.5 x 11" wonders can showcase your community with photos, a special promotion, amenities, contact information and a sampling of your floorplans. Just know, try to include your most marketable plans and not all 40! Keep it simple and don't overwhelm. Flyers can be distributed to area employers, shopping malls, parking lots, schools, during local events, and more!
Promo Cards
These compact little cards are the new way to reach your target demo. We recommend a 4 x 4" card branded with your image and colors. It must have your contact info and, preferably, a discount or promo. Many use a QR Code that can link most younger prospects to your website or offer via their mobile device. Promo cards come in handy and can easily fit in a pocket or purse. They are useful on a campus or at an event as a quick way to distribute info. In a hectic environment, folks are more likely to take something compact over a brochure or flyer.
Human Service Solutions states…
"For marketers, QR codes allow advertisements, brochures, posters – even clothing or billboards – to direct users to mobile landing pages that contain much more information and interactivity that can be afforded on the printed page."
Mini-Brochures
A simple tri-panel or fold-over can be smaller than a main brochure, yet give you more "real estate" when compared to a flyer. These can usually fit in a #10 business envelope or be sealed with a round Avery® Label for mailing as is. When someone wants more info, they can be incorporated as a follow-up, given to the "tire-kickers" or handed to interested prospects at an event. These mini-brochures also save you money by not wasting your more expensive main brochure.
Rack Cards
Usually a standard size, these are great for area retailers, health clubs, hotels, businesses, etc. Rack cards are often thicker with high-gloss on at least one side. They are a hybrid combination of a brochure, flyer, and postcard. However, they are used mainly for one function… To be placed on a counter or in a specific rack card display. The cards showcase your community while prospects access it on a display or counter. Most cities have a Chamber of Commerce, grocery store or hotels with these displays. You can also negotiate a deal with area retailers and businesses for more exposure. Exchange with retailers so your materials reach their customers and residents know about the business's services.
The HOW-TO!
Now that you know a few reachout promotional items, you should also know the who and how! As mentioned, each marketing item can be utilized to promote your community by different methods. We have mentioned a few of these above. Here is a quick list and wrap-up!
Residents Living in Other Communities
The best way to reach other prospects is direct mailing the competitor communities. Just know, you may open yourself up to them mailing your community. However, the best way to avoid a mass exodus is to keep your current residents fat and happy!
Major Employers
Become friends with selected Human Resource departments at various local employers. Offer a special discount for their employees and constantly drop off flyers or rack cards detailing the offer. The materials can be distributed to employees by the HR department.
Businesses/Retailers
As mentioned, strike a deal with local businesses and retailers. Promote them to your residents in exchange for the retailer passing out your materials.
Events/Gatherings
Whatever the event, many of the people you want to reach are there! You may want to invest in a small booth or develop a crew that passes out information.
Blitzes
This is when you take that rack card, flyer or promo card and you attack a car lot with a determined crew. You may want to hire some high school students for one Saturday afternoon!
Why Does It Beat Digital?
Print advertising is still one of the best ways to promote your community. It can work on a more tangible level, reaching your potential residents where they are as well as work in conjunction with any digital you have established. Unfortunately, digital ads are easily dismissed by the click of a button. Printed reachout materials demand your attention, as you must touch it. As said in an earlier blog, it engages more senses than digital and demands your attention with color, graphics, and a call-to-action. The printed advertising materials work best when utilized in your local area, successfully targeting your customer.
"Digital advertising helps cast a wider geographic net toward a specific kind of customer, whereas traditional print advertising is often more effective at driving business at a local level."